Looking for best type of reverb for vocals? Keep reading this article. I've tried every reverb plugin you can imagine and went through the pain of researching, trying and buying so you don't have to. This resource guide will fit any budget and most plugins on this list continue to be used by many award winning Grammy mix engineers.
Each plugin is reviewed by their Features and Recommended use.
Do you even 'Verb brah?
1. Audio Ease Altiverb (The best choice)
Recommended For – Natural Sounding Vocals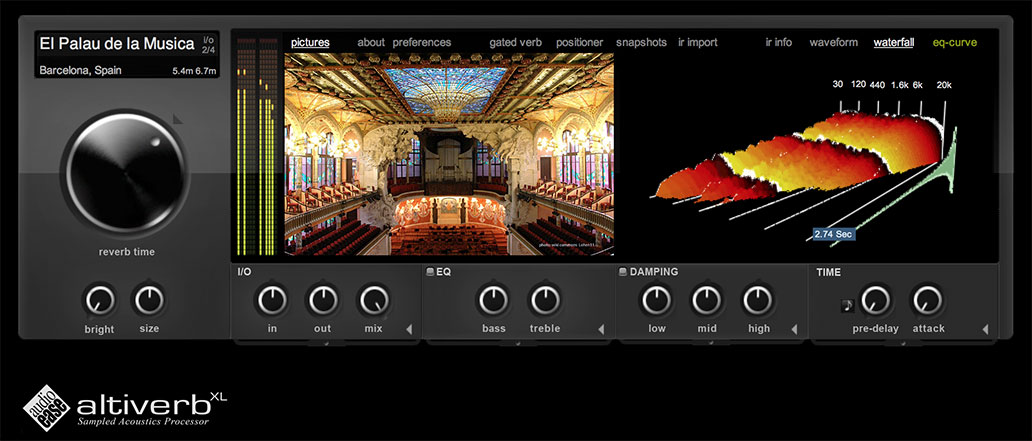 Altiverb is a premium reverb plugin that can let you sound like exactly you are aiming for. Due to various reasons, Audio Ease Altiverb comes out as the best plugin for convolution reverb. Audio Ease Altiverb are concerned, then you can easily find it loaded with the largest library of real recorded spaces that can let you put your best vocals through.
Undoubtedly, the staggering and meticulous library of impulse responses of Altiverb is impossible to beat. That is why there is no second though that Audio Ease Altiverb is going to be the best choice of high-end studios as well as legendry engineers.
Its library is available across the world in different venues that are ranging from ancient caves in Malta to Wembley Stadium in London as well as anywhere in between.
Whether it is about adding realism to the dialogues of any movie with the bedroom or bathroom's ambience to giving vocals an actual effect of reverb, Altiverb is capable of handling each reverb task you want it to.
Key features:
Do you want to know what makes Audio Ease Altiverb an amazing reverb plugin choice for both legendry engineers and high-end studios? Let's have a look at the key features of Audio Ease Altiverb to know more:
It offers a space you can ever dream of
It can offer you an amazing variety of reverb ambiances. You can easily choose the best to treat your vocals. Whether you are looking for an amazingly intimate space with realistic chamber reverb or want to dial into a dreamy sound from a real church, Audio Ease Altiverb can offer you it all with ease.
It also offers abundance of impulse responses to make things more amazing for you.
Stimulate sound with enhanced accuracy
This plugin comes up with different options including internal equalizer, time shifting, multi-band damping, a positioner, brightness control and more to offer enhanced accuracy.
An advanced search feature:
This plugin also offers an advanced search feature, in which you can search your required effects by keywords. Most importantly, the well-organized visual representation can even make it a breeze to get your perfect sound effect and recall that later whenever you need it.
Overall, Audio Ease Altiverb is a superb reverb plugin for the serious professionals who can justify its cost. In such case, this can be the only reverb plugin they ever need.
2. Fab Filter Pro-R
Recommended For – Any Vocals
Are you looking for a reverb plugin that has the potential to capture the glory of the past with classic hardware emulations? Then Fab Filter Pro is the one to get. This is a digital algorithmic reverb plugin which will let you design and use the reverb the way you want it exactly. Ultimately, getting the best reverb effect as per your needs has become super easy.
This is an amazing reverb plugin which is designed to provide you the total control of sound without even making you feel frustrated or overwhelming.
Key features:
Here we have enlisted some of the top features of Fab Filter Pro R to make it easier for you to know more:
The basic tone of this plugin sounds pretty smooth and natural. However, if you want to get electronic and modulated sound, you can configure that as well. That is all up to you to decide what exactly you want to get from it.
Most amazingly, this plugin can also offer you various sounds presets as well that you can use for your vocals with ease.
It comes up with all of the necessary knobs including wet, dry, pre-delay or decay. Besides this, it can also offer you some special knobs such as stereo width knob, character knob, brightness knob, and a distant knob as well.
While, the internal equalizer feature is the most loved one here. It is because the plugin comes up with a great equalizer, which will let you equalize reverb similarly you can equalize anything in this plugin with ease.
The Decay Rate EQ feature of this reverb plugin is offering enhanced flexibility. it can help you to shape decay characteristics of reverb effect as well. Ultimately, you would be able to tailor the effects of reverb as per your precise requirements.
Overall, this is the best plugin for the ones who are looking for responsive and flexible reverb effect for their vocals. This can be modified to fit in various genres and styles.
3. Valhalla DSP Plate (Best Value)
Recommended For – Any Vocals
This reverb plugin has made its own space in the software market of saturated audio, and that's even in a very short period of time. this reverb plugin has been used by numerous high-end producers all around the world. Even more, it has received a high-praise for its numerous amazing features as well.
This plugin can even exceed the expectations set by the Room.
Key features:
Here are some of the most amazing features of Valhalla that you must know:
A large library of reverb algorithms
This reverb plugin offers an extensive library of various reverb algorithms. You can use these effects easily to create different sound of spaces with ease. You can find here anything from the basic effects to the advanced ones with ease.
Advanced control over sound
It comes up with all the features you can expect from a minimalist plugin. It comes up with all advanced control options such as shape control, modulation options, internal equalizer and damping options as well.
Knobs sit right next to each other
Even though knobs of this plugin are grouped. However, some people like this plugin because it contains all the major knobs sitting next to each other. As it is believed that this can improve the workflow.
The best thing about this plugin is that it is priced pretty reasonably, unlike other similar options. You can get an extensive library of presets without spending huge.
Overall, this is a reasonably priced reverb plugin which can make indispensable for various projects. Most importantly, the features and effects it is offering with this price tag make it an amazing steal for every musician.
4. Waves H-Reverb (Best Value)
Recommended For – Any Vocals
This plugin has combined the concepts of established reverb with amazing techniques of digital signal processing. From reverse to advanced modeling with drive control, it can offer you amazing features that every mixing engineer might need.
Key features:
Do you want to know why Waves H-Reverb is on the list of our top reverb plugins? Let's have a look at key features enlisted below to get a better idea about the things in this regard:
More detailed and richer reverb tails
The plugin is utilizing the technology of Finite Impulse Response that can help you to get more detailed and richer tails of reverb effects with ease without even muddying the mix.
This plugin can offer expanded responsibilities than reverb only with a set of dynamic processing control, modulation and EQ within the same plugin.
Analog modeling technology
This plugin comes up with analog modeling technology to offer a drive control. This can help you to implement inbuilt effects and modulations to get perfect reverb effects.
Overall, this is one of the most affordable reverb plugins that you can have. Highly suitable for the ones who want a feature-packed and affordable reverb plugin at present.
5. Polyverse Comet
Recommended For – Ambiance and Electronic Vocals
Poly Verse is best known plugin among musicians because of its tagline. However, Comet is setting out its stall out by offering plenty of reverb processors based on impulse response. Even more, this beautiful reverb plugin has been designed amazingly to create beautiful and soulful sound trails. It offers you more control on sound effects with its various built-in features.
Key features:
Do you want to know more about this amazing Poly Verse reverb plugin? Here we have its key features for you:
Amazing shift and change in tone
This plugin allows the shift and change in the reverb tone, so that achieving any tone you want can become easier for you. Even more, it is a best plugin to create amazingly beautiful ambience.
All the necessary features available
Undoubtedly, it comes up with all the necessary built-in features. You can use its size knob to simulate the room size perfectly. Similarly, color slider and damping can offer you an amazing shift as well. It also contains perfect detune and diffuse knobs for modulation. While, glide control is known as the best feature of Comet.
An incredibly nice interface
The user-interface of this plugin is incredibly clean and nice. Every knob is placed exactly where it has to be. Even more, the clear value representation also makes it perfectly easy to track. At the same time, the internal equalizer of the plugin is also simpler to use.
Overall, it is offering a simple and easier to follow format.
Overall, this can offer you sound like anything you haven't heard before. It can offer you quality and variety with ease.
6. Universal Audio UAD Lexicon 224
This plugin is well-known to make high-end emulations of popular hardware gear. Most amazingly, the rendition of this reverb unit is not different than of its original. Most amazingly, the current plugin ensures to go to extreme lengths for recreating the legendary sounds to the higher authenticity.
Key features:
Do you want to know more about Universal Audio UAD Lexicon reverb plugin? Let's have a look at some of its amazing features given below:
This plugin comes up with a richer vintage character and can help you in creating a room or space very realistically. Even more, to offer enhanced authenticity it has arrived with bug fixes.
Abundance of modeled Lexicon sounds
Even though for the best use of this plugin, you have to study its original. However, once you did that, going from cozy to coarse will become super easier for you.
Adding a generous dollop of emulsion is easier
The reverb effects of this plugin are just impossible to tell apart from the actual effects. However, you can even have an addition of generous dollop of emulsion without even overwhelming the whole mix.
Overall, the original unit of this reverb plugin was an absolute hit for vocals ranging from rock to pop. Amazingly, the current faithful recreation is also carrying the legacy of sounding perfect on the vocals.
7. WA Productions Mutant Reverb
Recommended For – Electronic Sounding Vocals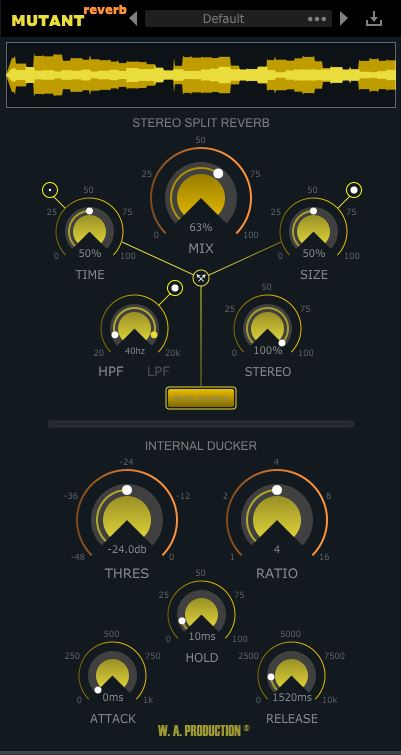 This reverb plugin was initially created for music producers by a popular company who first started out selling DAW templates and presets, i.e., WA Productions. However, over time, this has become one of the most loved reverb plugins by vocal engineers and musicians alike.
The plugin tone resembles the modern styles and can fit electronic songs mainly with ease. You will definitely love the fact how it sound works. Even though it doesn't offer any shift in tone but you can still mix the effect with your sound effectively.
Key features:
Have a look at key features below to know more about it:
This reverb plugin is pretty simple and straightforward. It doesn't come up with any complex functionality. Even though it doesn't offer any modulation or damping functions, but it can let you, sidechain the reverb internally.
You will definitely love how this plugin works on lead vocals, vocoders, and vocal chops. The sidechain technology can actually help you in improving your vocal's sound.
Straightforward user-interface
The interface of this reverb plugin is pretty simple. It comes up with just 5 different knobs at its top to control the sound of reverb. However, the 5 knobs located at the bottom are meant to control its sidechain features effectively.
Overall, this is one of the most reasonably priced plugins which comes up with simple yet useful feature. This can be suitable for electronic musicians.
8. Audio Damage EOS 2
Recommended For – Any Vocals
EOS2 by Audio Damage is another amazing plugin on our list. This plugin comes up with 4 reverb algorithms. These sounds can help you to stimulate the sound's feeling that you want to have. It comes up with one SuperHall and three plate algorithms to offer you amazing effects.
Key features:
Here are some of the most amazing features of Audio Damage that you must know:
The plugin comes up with 23 factory presets. All of these are effective to achieve multiple styles of vocals. Apart of these, the modulation and equalization options of this reverb plugin are great as well.
Very well-programmed plugin
The plugin is amazingly well-programmed. All of its options including internal equalizer, modulation, diffusion, pre-delay, attack control, and decay options work fluently.
Clean and organized interface
This plugin even comes up with a clean and perfectly organized user-interface. Each knob is perfectly placed near the related features. Besides this, you will also get each knob's numeric representation that makes it a highly user-friendly reverb plugin.
Overall, this is a straightforward reverb plugin which is suitable for all styles of vocals.
9. Slate & LiquidSonics VerbSuite Classics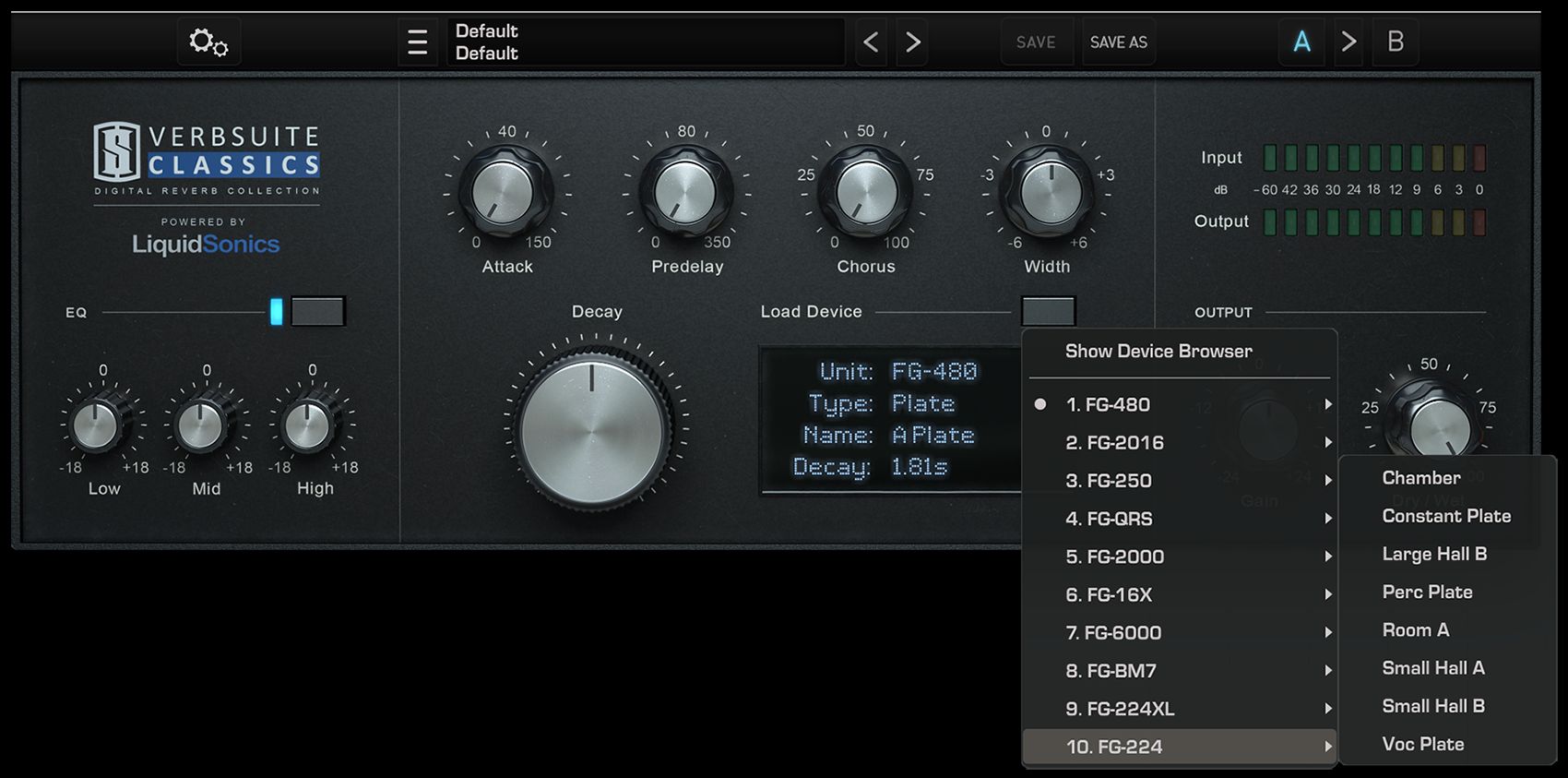 Do you want to have a legendary reverb plugin with a classic hardware unit? Well, this plugin can let you have it all along with excellent emulations in one package. This is an amazing convolution reverb plugin which comes up with accurate models of well-known historic places. Even more, this plugin also includes different models to offer you enhanced accessibility and availability.
Key features:
Here are some of the most amazing features of Verbsuite classics that you must know:
The plugin is based on IR technology to offer multi-sampled IRs. This technology can help you find ore details than any other conventional or static impulse response.
Packed with multiple goodies
The plugin is packed with amazing range of goodies but still the interface of this plugin is pretty organized and sleek. It also offers knobs to control various features and have amazing sound effects with ease.
Create unique flavor for each sound
Each model of Slate and LiquidSonics used to sound rich and has the ability to bring its unique flavor in the best possible way. Even though you need to put some efforts to learn each model, but the results of your efforts will make it worthwhile.
Overall, Slate and LiquidSonics is an amazingly affordable reverb plugin that offers you an amazing package that you can't resist. Suitable for everyone who wants to get high-quality reverb effects.
10. Audio Thing Fog Convolver
Recommended For – Special FX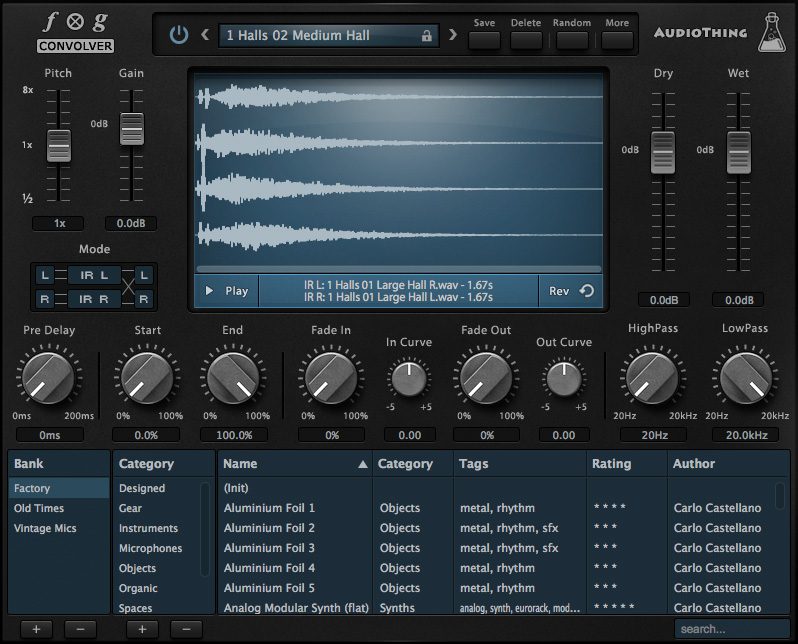 This is one of the most amazing reverb plugins on our list which can help you to get the reverb effects exactly the way you want it. Most amazingly, it comes up with an amazing option of importing your own impulses of reverb. Apart from this, it can also offer you an extensive number of presets that will make it easier for you to find the perfect sound for your project and spice it up incredibly.
Key features:
Let's have a look at the key features of Audio thing to know more:
This is one of the best reverb plugins to create special Fx as well as unique reverb effects in the best possible way.
The plugin comes up with super unique features that will let you edit, import and utilize your own impulses. This will ultimately help you to achieve any kind of sound and develop smoother transitions as well.
This plugin comes up with a clean, organized and unique user-interface which will certainly help in enhancing your workflow. All the sliders and knobs are available in the design as they would look on an analog box exactly. Even though it comes up with one window only, but still, it is perfectly organized.
Overall, this is one of the most recommended reverb plugins for special FX.
Wrapping Up
All of the plugins listed in this resource guide are incredible products that can make your vocals sit smoothly in a mix. But in the end, it is up to your ear and personal taste to decide what style of reverb to use for a given situation.
Time and practice are key, of course, but I hope this article helps you find the the tool to dial in a killer vocal sound.